INVITED EXPERTS
This year's summit will bring together a number of education experts to offer their thoughts on leadership, recognition and efficacy, and innovation in the context of the teaching profession.
Please join us in welcoming: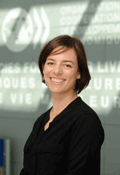 JULIE BÉLANGER
Julie Bélanger, Analyst at the Organisation for Economic Co-operation and Development (OECD), has been involved in the development and implementation of the second cycle of the Teaching and Learning International Survey (TALIS) and is one of the authors of TALIS 2013 Results: An International Perspective on Teaching and Learning and New Insights from TALIS 2013: Teaching and Learning in Primary and Upper Secondary Education. Prior to this, she was Senior Research Analyst at the Canadian Council on Learning (CCL), where she worked with provincial governments on educational issues such as large-scale secondary-school reform (Ontario), educational programs for students with special needs (Manitoba), and work and learning programs in higher education (New Brunswick). Dr. Bélanger has also taught research methods and psychology at the University of British Columbia, Canada.
Originally from Quebec, Dr. Bélanger completed her B.A. in Psychology and Linguistics at McGill University and holds a Ph.D. in Developmental Psychology from the University of British Columbia.

LINDA DARLING-HAMMOND
Linda Darling-Hammond is Charles E. Ducommun Professor of Education at Stanford University, where she founded the Stanford Center for Opportunity Policy in Education and the School Redesign Network and served as faculty sponsor for the Stanford Teacher Education Program. She is a past president of the American Educational Research Association, a two-term member of the National Academy of Education, and a member of the American Academy of Arts and Sciences. Her research, teaching, and policy work focus on issues of school restructuring, teacher quality, and educational equity. From 1994 to 2001, she was executive director of the National Commission on Teaching and America's Future, whose 1996 report,
What Matters Most: Teaching for America's Future
, led to sweeping policy changes affecting teaching and schooling and was named one of the most influential affecting US education. Prof. Darling-Hammond was named one of the nation's 10 most influential people affecting educational policy over the last decade, and in 2008, she served as the leader of President Barack Obama's education policy transition team.
Among Prof. Darling-Hammond's more than 400 publications are The Flat World and Education: How America's Commitment to Equity Will Determine Our Future (winner of the 2012 Grawemeyer Award in Education); Preparing Teachers for a Changing World: What Teachers Should Learn and Be Able to Do (with John Bransford, for the National Academy of Education, winner of AACTE Pomeroy Award in 2006); Powerful Teacher Education: Lessons from Exemplary Programs; Teaching as the Learning Profession (with Gary Sykes, awarded the National Staff Development Council's Outstanding Book Award for 2000); Learning to Teach for Social Justice (with Jennifer French & Silvia Paloma Garcia-Lopez, Eds.); and The Right to Learn (recipient of AERA's Outstanding Book Award for 1998).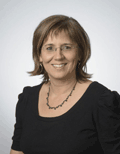 JULIE DESJARDINS
Julie Desjardins is Vice-Dean, Training, in the Faculty of Education of the
Université de Sherbrooke
, Quebec.
Ms. Desjardins is internationally recognized for her research and involvement in the field of teacher training and has published or collaborated on numerous books, book chapters, and scholarly papers in French, English, and Spanish. Her work deals with training programs focused on the acquisition of professional competencies and addresses not only pedagogical issues, but the organizational and social dimensions within institutions as well. Ms. Desjardins is a member of the prestigious international Recherche, Éducation et Formation (REF) [Research, Education and Training] network and, since 2005, has been involved in the coordination (in collaboration with P. Perrenoud, M. Altet, L. Paquay, R. Étienne, and O. Maulini) of a biennial symposium on teacher training. She has also acted in the capacity of international expert in South America on projects related to the reform of university training programs.
Ms. Desjardins is involved in her field at the regional, provincial, and national levels. She began her career as an elementary-school teacher before becoming a university professor and assuming leadership of the bachelor's program in preschool and elementary education and then going on to become Vice-Dean. She has coordinated the implementation of numerous in-service activities for teaching staff of elementary-secondary schools and universities (summer institutes, professional-development, and knowledge-transfer days) and is co-chair of the regional education coordinating committee for the Eastern Townships. Ms. Desjardins also serves as francophone vice-president of the Canadian Society for the Study of Education and is a past member of both the preschool and elementary education committee of the Conseil supérieur de l'éducation [minister's advisory council on education] and the Comité d'orientation pour la formation du personnel enseignant [teacher training steering committee]. In that capacity, she contributed to the preparation of a number of recommendations to the minister of education related to the teaching profession and teacher training.

MICHAEL FULLAN
Michael Fullan, OC, is the former Dean of the Ontario Institute for Studies in Education of the University of Toronto. Recognized worldwide as an authority on education reform, he advises policy-makers and local leaders, both in Canada and around the world, on helping to achieve the moral purpose of all children learning. Prof. Fullan received the Order of Canada in December 2012. He holds honorary doctorates from several universities in North America and abroad. He currently serves as an education adviser to the Premier and the Minister of Education of Ontario.
Prof. Fullan is a prolific, award-winning author whose books have been published in many languages. His book Leading in a Culture of Change (Jossey-Bass, 2007) was awarded the 2002 Book of the Year Award by Learning Forward (formerly the National Staff Development Council); Breakthrough (with Peter Hill and Carmel Crévola; Corwin Press Inc., 2006) won the 2006 Book of the Year Award from the American Association of Colleges for Teacher Education (AACTE); and Turnaround Leadership in Higher Education (with Geoff Scott; Jossey-Bass, 2009) won the Bellwether Award in 2009. Change Wars (with Andy Hargreaves; Solution Tree, 2008) was awarded the 2009 Book of the Year Award by Learning Forward, and Professional Capital (with Andy Hargreaves; Teachers College Press, 2012) won both the AACTE 2013 Book of the Year and the Grawemeyer prize for 2015. His latest book is Freedom to Change (Jossey-Bass).

XAVIER PRATS MONNÉ
Xavier Prats Monné is the Director-General for Education and Culture of the European Commission. As Deputy Director-General, beginning in 2011, he has been responsible for EU policies in the field of education and training, and for the EU education programs for the period 2014–20, including Erasmus+ and Marie Skłodowska-Curie actions (MSCA). Since mid-2014, as Director-General, he has also been responsible for EU policies and programs in the field of culture, youth, and sport, and for the 2014–20 Creative Europe program. He represents the European Commission on the Governing Board of the European Institute of Innovation and Technology (EIT).
From 2007 to 2010, Mr. Prats Monné served as Director for employment policy and was one of the five founding members of the EU's Impact Assessment Board, reporting to the President of the European Commission. He previously served as: Director for employment policy and for the European Social Fund; Deputy Head of Cabinet of the Commission Vice-President for international relations; Advisor of the Commissioner for Cohesion Policy; and deputy to the commission's Chief Spokesperson under President Jacques Delors.
Mr. Prats Monné completed his elementary and secondary education at Istituto Massimo in Rome, Italy. He holds degrees in anthropology from Complutense University of Madrid (Spain); in development cooperation from the International Centre for Advanced Mediterranean Agronomic Studies (Paris, France); and in European studies from the College of Europe (Bruges, Belgium), where he graduated top of the class of 1981–82 and later served as assistant professor. Mr. Prats Monné was born in Spain and is fluent in Spanish, English, French, Italian, and Catalan.

ANDREAS SCHLEICHER
Andreas Schleicher was appointed Director of the Directorate for Education and Skills (EDU), OECD, and took up these duties on May 19, 2014.
As a key member of the senior management team of the organization, Mr. Schleicher supports the Secretary-General's strategic orientations in the area of education and skills, ensuring that they fully reflect the multidimensional nature of the OECD and deliver analysis and policy advice that promotes economic growth and social progress. He provides leadership and strategic direction to promote the work of the directorate on a global stage and fosters horizontal cooperation both within and outside the OECD.
Mr. Schleicher joined the OECD in 1994 as an analyst in the Centre for Educational Research and Innovation and, in 1997, became the Deputy Head of the Statistics and Indicators Division of the OECD Directorate for Education, Employment and Social Affairs. In 2002, he was appointed Head of the Indicators and Analysis Division of EDU, where he was responsible for the design, implementation and analysis of the OECD's comparative assessments of the performance of education systems, including PISA, PIAAC and TALIS, as well as for the horizontal OECD Skills Strategy. In 2009, he was appointed Special Advisor on Education Policy to the Secretary-General and, in February 2012, was appointed Deputy Director of EDU.
Before joining the OECD, he was Director for Analysis at the International Association for the Evaluation of Educational Achievement (IEA).
Mr. Schleicher, a German national, has a Master's Degree in Mathematics and Statistics from Deakin University in Australia and holds an honorary Professorship at the University of Heidelberg.